1st Circular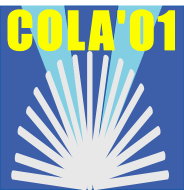 COLA'01
Call for Papers
The 6th International Conference on Laser Ablation (COLA'01) will be held October 1 - 5, 2001 at the International Congress Center (EPOCHAL TSUKUBA) in Tsukuba, a science city of Japan. We hope you are planning to attend it. Please refer to our internet address
http://cola.ims.tsukuba.ac.jp/
where the latest news will be posted.

Key Information
* Abstract deadline: April 27, 2001.
* Notification of abstract acceptance after rating: May 31, 2001.
* Pre-registration deadline: July 7, 2001.
* Duration: Sunday evening reception through Friday lunch, September 30 - October 5, 2001.
*Pre-registration cost: 50,000 JPYen includes banquet and proceedings.
(Students: 25,000 JPYen includes banquet.)
* Manuscript for publication: Refereed. For publication in a Journal. Due at conference.
Topics
* Laser Surface Interactions
* Mechanisms & Diagnostics of Laser Desorption
* Modelings and Computer Simulation of Laser-Induced Desorption and Ablation
* Laser Plasma and Gas Dynamic Effects
* MALDI(Matrix-Assisted Laser Desorption Ionization)
* Analytical Spectroscopy Based on Laser Ablation
* X-Ray Generation and Novel Photon Sources using Laser Plasma
* Film Synthesis by Pulsed Laser Deposition (PLD): New and Artificially-Structured Materials
* fs-Laser Applications
* Cluster/Nanoparticle/Nanowire(tube) Formation and Deposition
* Nanoscience and Nanotechnology using Laser-Solid Interactions
* Electronic Excitation Effects and Kinetic Energy Effects
* Laser-Induced Surface Modification
* Laser Etching and Cleaning
* Lithography and Micromachining
* Biomedical Ablation: Mechanisms and Applications (Corneal, Tissue, Dental, ... )
* Industrial Applications
Invited Speakers (Tentative)
1) S. Iijima (NEC, Meijo Univ., Japan)
Nanotechnology of C-Nanotubes and Laser Ablation Methods
1) A. Puretzky (Univ. Tennessee, USA)
Time-Resolved Diagnostics of Single-Wall Carbon Nanotube Synthesis by the Laser Vaporization
2) M. Yoshimoto (Tokyo Inst.Tech., Japan)
PLD of Diamond under Oxygen Atmosphere
3) F. Stietz (Univ. Kassel, Germany)
Laser Manipulation of Metal Nanoparticles
4) D. Dlott (Univ. Illinois, USA)
Shock Wave Assisted Laser Ablation
5) H. Hosono (Tokyo Inst.Tech., Japan)
Holographic Encoding of Micrograting on Transparent Materials with a Single fs-Laser Pulse
6) M. Stuke (Max-Planck-Inst. fuer Biophysik. Chem., Germany)
Laser Chemical and Ablation Processing for 3-dimensional Micro- and Nanostructures
7) T. Lippert (Paul Scherrer Inst., Switzerland)
Polymers Designed for Ablation - Influence of Photochemical Properties
Papers, Posters, and Abstract
Approximately two-thirds of the presentations at COLA'01 are posters, which are usually presented at three poster sessions. Oral presentations are chosen to provide a well-rounded and diverse program, and to complement the invited talks. Up to 10 invited talks will be chosen from the submitted abstracts.
Abstract preparation instructions are provided on the Internet site. The camera ready abstract (A4 size (297 x 210 mm2), 1 page) is for inclusion in our abstract book, which will be available at the conference. The abstract form should arrive to K. Murakami, Institute of Applied Physics, University of Tsukuba, Tsukuba, Ibaraki 305-8573 Japan by April 27, 2000.
All papers must be submitted at the conference. Details of the paper preparation will be available from the publisher soon. Invited papers will rage from 6-8 printed pages each, and 4 printed pages each for contributed papers, respectively. The papers will be refereed by the International Committee and attendees of the conference appointed by the International Committee. We expect to publish the proceedings within 6 months after the conference.
About Tsukuba-city and International Congress Center (EPOCHAL TSUKUBA)
Tsukuba-City is located approximately 60 km northeast of Tokyo. 46 national research and educational institutions are functionally located in the city. About 8,500 researchers are working at national institutions. In addition, many private research institutions have branched out into the industrial parks. The International Congress Center (EPOCHAL TSUKUBA) is on the center part of the city. Details of the Center are available in the internet site; http://www.epochal.or.jp/english/index.html Several hotels are located near the Center.
From Narita Airport
The easiest way to come from the New Tokyo International Airport (Narita Airport, NRT) is to take the Airport Liner NATT's, which connects Tsuchiura Station and Narita Airport via the Tsukuba Center Bus Terminal. It takes about 1 hour 40 minutes between Tsukuba and the airport, with nine services per day. The Congress Center is about 10 minute walk from the Bus Terminal.
J. Thomas Dickinson (Washington State Univ., USA) Email: jtd@wsu.edu
Costas Fotakis (FORTH-IESL, Univ. Crete, Greece) Email: fotakis@iesl.forth.gr
James S. Horwitz (Naval Res. Lab., USA) Email: horwitz@ccsalpha3.nrl.navy.mil
Kouichi Murakami (Univ. of Tsukuba, Japan) Email: murakami@ims.tsukuba.ac.jp
Akira Yabe (Nat'l Inst. of Mater. Chem. Res., Japan) Email: yabe@home.nimc.go.jp
C. Afonso (Sp), I.W. Boyd (UK), D. Baeuerle (A), E.E.B. Campbell (Sw), J.T. Dickinson (USA), J.J. Dubowski (Can), E. Fogarassy (F), C. Fotakis (Gr), D. Geohegan (USA), M. Gower (UK), R.H. Haglund,Jr (USA), P.R. Herman (Can), W.P. Hess (USA), J.S. Horwitz (USA), W. Kautek (Ger), H. Koinuma (J), H.U. Krebs (Ger), D.H. Lowndes (USA), J.G. Lunney (Irl), W. Marine (F), K. Murakami (J), T. Okada (J), R.E.Russo (USA), J. Schou (Den), F. Traeger (Ger), A. Yabe (J)
Kouichi Murakami, Tetsuya Makimura (Univ. Tsukuba), Fumio Kokai (Inst. Res. Innovation),
Akira Yabe, Hiroyuki Niino, Naoto Koshizaki, Takeshi Sasaki (Nat'l Inst. Mater. Chem. Res.)
Office
| | |
| --- | --- |
| Institute of Applied Physics, | Tel: +81-298-53-5272 |
| University of Tsukuba, | Fax: +81-298-55-7440 |
| Tsukuba, Ibaraki 305-8573 Japan | Email: murakami@ims.tsukuba.ac.jp |
---