Around the Conference Site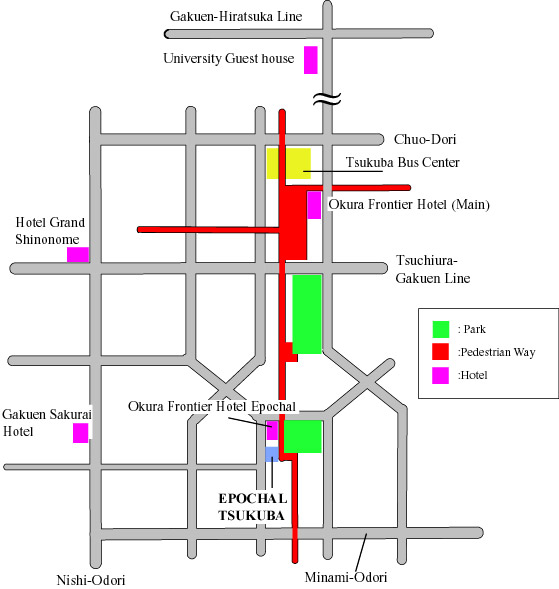 ---
Access From Narita Airport
The easiest way to come from the New Tokyo International Airport (Narita Airport, NRT) is to take the Airport Liner NATT's, which connects Tsuchiura Station and Narita Airport via the Tsukuba Center Bus Terminal. It takes about 1 hour 40 minutes between Tsukuba and the airport, with nine services per day. The Congress Center is about 10 minute walk from the Bus Terminal. If you need detailed information and timetable, pleasee refer to the following web site.
The Way to Tsukuba Center (Tsukuba Cyber City)

This page (JTB USA) might be useful for participants from the United States.
---
Tsukuba City
Tsukuba City is located approximately 60 km northeast of Tokyo. 46 national research and educational institutions are functionally located in the city. About 8,500 researchers are working at national institutions. In addition, many private research institutions have branched out into the industrial parks.
Tsukuba Cyber City

General infomation about Tsukuba Science City. You can see the profiles of Tsukuba, transportation to Tsukuba, and so on.
International Congress Center (EPOCHAL TSUKUBA)
The International Congress Center (EPOCHAL TSUKUBA) is on the center part of the city. Details of the Center are available in the internet site. Several hotels are located near the Center.
---
October 7, 2001: Fireworks Contest (Hanabi Taikai)
Over 50 fireworks companies and factories are contended for honors. One of the two greatest fireworks competitions in Japan.
---